Art & Study Retreats in Italy
Faculty: Martha Wakeman
Journey, the memories, the dreams and reflections along the road one travels, has been a constant theme in my painting. I sometimes see reality as a series of dreams, of encounters, of momentary, fleeting, fragile yet often beautiful experiences. Italy where I spent ten years and where we still return yearly, has been and continues to be a strong source of inspiration. Memories of people and of the Italian landscape with its extraordinary light have influenced my painting.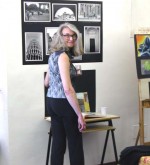 Martha Wakeman
[click image to enlarge]Martha Wakeman grew up in Darien, Connecticut. She graduated from Skidmore College in 1970 with a B.S. in Art Education, having spent one semester of her junior year at Tyler School of Art in Rome. She returned to Florence, Italy in the fall of 1970 to begin graduate work at Villa Schifanoia, Rosary College Graduate School of Fine Art. Thus began a ten-year period of life alone in a small rustic apartment in the hills outside of Florence. During this time she earned an MA and an MFA in painting, taught drawing and painting for Gonzaga University in Florence, and had numerous one-woman exhibits of her painting in Florence and Milan. 1979 brought her the opportunity to exhibit in New York.
In 1980, she came back to Connecticut and married Robert E. Proctor, professor of Italian language and literature at Connecticut College. Over the past 23 years, they have continued to return to Florence and Venice during the summer. These trips have provided a wealth of inspiration for Martha's paintings. In Fall 2000, Martha and Robert traveled to Rome where Robert is creating an undergraduate program for Connecticut College on The Roman Origins of the Liberal Arts Tradition. They took Connecticut College students back to Rome again in the spring of 2002. The idea for a pastel course at Casa Ciotti was born when they first took their undergraduate students to Etruria under Mary Jane Cryan's guidance.
Her life and many trips to Italy have provided a wealth of inspiration for Martha's paintings. For many years she has been working on pastel landscapes inspired by Tuscany. She has now completed a series of cityscapes inspired by her recent stay in the charming Trastevere district of Rome.
Martha has exhibited in solo and group shows in Connecticut. Since 1984, she has taught drawing, painting, and pastel courses to Return to College Students at Connecticut College. During the summers of 2002 and 2003, she taught painting and pastel at The Umbra Institute in Perugia to college students from across the United States. Her work is in many private collections, in Europe, the United States, and Canada.
Faculty: Marlene McLoughlin
Marlene McLoughlin grew up in Santa Monica and Palo Alto, California, and has a degree in Art History from Barnard College and a degree in Fine Art, with High Distinction, from California College of Arts and Crafts. She has illustrated over 25 books, published internationally. Her first book project, an illustrated manuscript of "Beauty and the Beast," was purchased by the University of Texas at Austin. While living in California her works varied in scale from wall paintings to miniatures. Among her books are "Across the Aegean," "Rome for All Seasons," and "The Passionate Observer." Her most recent project has been the "Savoring" series of books for Williams-Sonoma. Her award-winning work is in a number of private collections. She has lived in Rome since 1995 and is currently working on a book of watercolors of her adopted city. During the summer of 2003, Marlene and Martha taught a Watercolor and Pastel course at the Umbra Institute in Perugia. Her website: http://www.marlene-art.com
Faculty: Mary Jane Cryan
Mary Jane Cryan is a writer, educator, and researcher who now lives in Vetralla, a delightful hill town in the heart of Etruria just 40 minutes north of Rome. Originally from Massachusetts, Mary Jane has lived in Italy for more than 35 years teaching in Rome's international schools and in other educational programs, including Elderhostel. She has helped design and set up semester abroad programs for American colleges and universities, including School Year Abroad's Italian School in Viterbo and St. Thomas More College's program in Rome. For more than 20 years, her weekly columns on antiques, life style, and travel appeared in Italy's English language press. She has been a staff writer for Villa Casali and has contributed to the best selling Eyewitness Guide to Rome and to Foder's Italy Update. Her two recent books about the Vetralla area, Affreschi – Exploring Vetralla and Vetralla – The English Connection, along with a monthly newsletter (http://www.elegantetruria.com) have garnered her prestigious awards, including the Premio Cardarelli 2001, the City of Capranica Prize for Historical Research 2000, and the Ettore Petrolini Prize – City of Ronciglione 2002.
Faculty: Robert E. Proctor
Robert E. Proctor is Joanne Toor Cummings '50 Professor of Italian at Connecticut College, where he has also served as Provost and Dean of the Faculty, and as Founding Director of the Toor Cummings Center for International Studies and the Liberal Arts. He is a member of the Board of Trustees of the Lyme Academy of Fine Arts, Old Lyme, Connecticut, and was Visiting Professor in 1999 - 2000, and fall 2001 with the goal of helping to integrate the humanities and fine arts curricula. He is also a member of the board of the Williams School, an independent 7 - 12 day school in New London, Connecticut.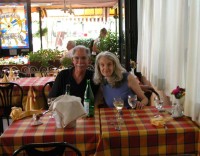 Robert Proctor and Martha Wakeman
[click image to enlarge]Robert E. Proctor grew up in Los Angeles, California, and is a graduate of the University of San Francisco and of The Johns Hopkins University. He has been a fellow of Villa I Tatti, the Harvard University Center for Italian Renaissance Studies in Florence, Italy, and of The National Humanities Institute at Yale University. He is the author of Education's Great Amnesia: Reconsidering the Humanities from Petrarch to Freud, with a Curriculum for Today's Students (Indiana University Press, 1988), for which he won the Association of American Colleges' Frederic W. Ness Book Award in 1990, given annually to the author of the book that contributes most to the understanding of liberal learning. A second paperback edition of the book appeared in 1998 with the new title Defining the Humanities: How Rediscovering a Tradition Can Improve Our Schools. He is now writing a book on the Roman origins of the liberal arts tradition.
Martha Wakeman and Robert Proctor live in New London, Connecticut. They have two children, Rebecca and Andrew, ages 20 and 17.