Art & Study Retreats in Italy
Venues: Drawing & Pastels in Tuscany
Fiesole
An Etruscan settlement perched on a hilltop above the city of Florence, Fiesole held an important position during the Roman era. There are the remains of an ancient Roman amphitheater, and Roman baths. Fiesole has as well a beautiful medieval cathedral dedicated to St. Romulus, according to legend the first bishop of Fiesole.
Pensione Bencista


The pensione is a villa located in Fiesole, in the hills above Florence.
During the first half of the 14th century, this villa belonged to a famous Florentine named Bartolomeo di Niccolò. It was later owned by Bartolomeo di Filippo Valori, who was closely connected to the Medici family. In the 1500s it was owned by Bishop Raffaello Minerbetti. It was given the name Bencistà. In the following century it came into the possession of the Ficiati family. In 1759 it belonged to the Sisters of St. Anne of the Fields and was used as a convent for about 150 years. In 1925, Pietro Simoni and his wife bought it from the son of the Swiss painter Arnold Böcklin.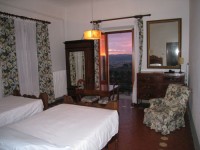 It was the Simoni family who converted the villa into a guest house and built extensions.
At present, Pensione Bencistà is managed by Simone and Carla Simoni, together with their youngest daughter, Beatrice with the help of her husband Daniele; and her elder sister, Chiara, when her role as a doctor permits her to dedicate some time do so.